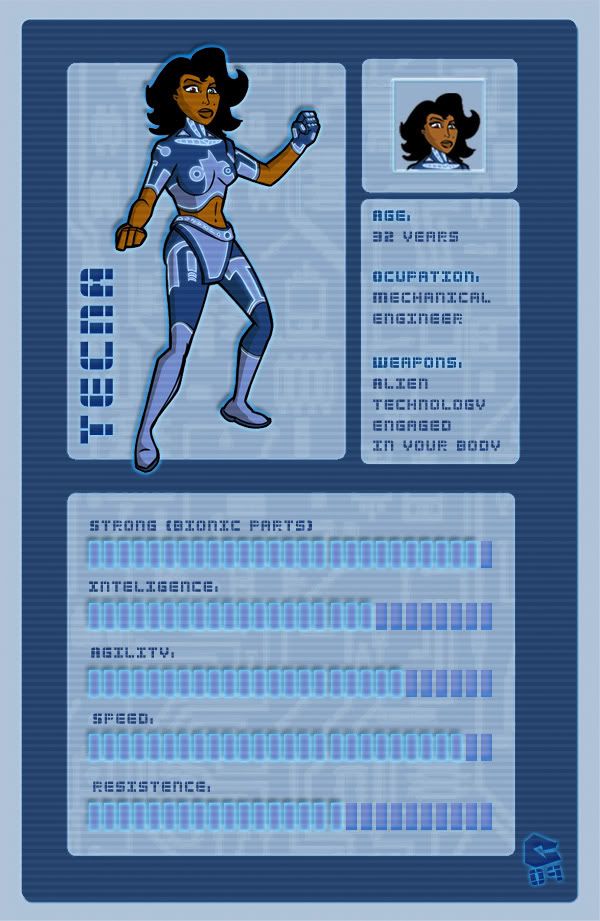 Uma linda mulher (humana) com partes biônicas (Cyborg). Especialista na construção de objetos mecânicos.
História: Tessa Conelly Amber sofreu um acidente de carro no meio de um deserto. Seu corpo ficou preso entre as ferragens do veículo, completamente imóvel. Perdendo muito sangue, ela estava quase inconsciente quando uma luz forte ofuscou seus olhos, vinda do céu. Uma nave alienígena lançou um campo de energia sobre ela, fazendo-a desaparecer do meio dos destroços e reaparecer dentro da nave. Lá ela foi examinada e ficou ciente de que teve 70% de seu corpo destruído no acidente. Os seres deram-lhe uma segunda chance de vida com a adição de componentes biônicos ao seu corpo.
As partes biônicas do seu corpo são feitas de um material estranho que libera uma energia luminosa. Esta energia pode ser moldada por sua mente para a criação de objetos sólidos em torno dela, como armas, escudos e um exoesqueleto, se desejar.
Sua fraqueza é o uso de magia ou armas que podem atingir os seus componentes humanos.
-----------------------------------------------------------------------------------
A beautiful woman (human) with mechanical parts (cyborg). Specializes in building mechanical objects.
History: Tessa Conelly Amber suffered a car accident in the middle of a desert. His body was trapped between the fittings of the vehicle, completely motionless. Losing too much blood, she was almost unconscious when a strong light dazzled his eyes from the sky. An alien spaceship launched an energy field on it, causing it to disappear from the wreckage and reappear inside the ship. There she was examined and was aware that he had 70% of his body destroyed in the accident. With an advanced beings gave him a second chance at life with the addition of bionic components to your body.
The parts of bionic body are made of a alien material that releases an light energy. This energy can be shaped by his mind creating solid objects around you as weapons, shields and an exoskeleton, if desired.
His weakness is the use of magic or weapons they can hit their human parts.
;)